A Weekend of Kid Friendly Exploring
1/8/2013
Written by Sarah McCully / Published by Trekaroo.com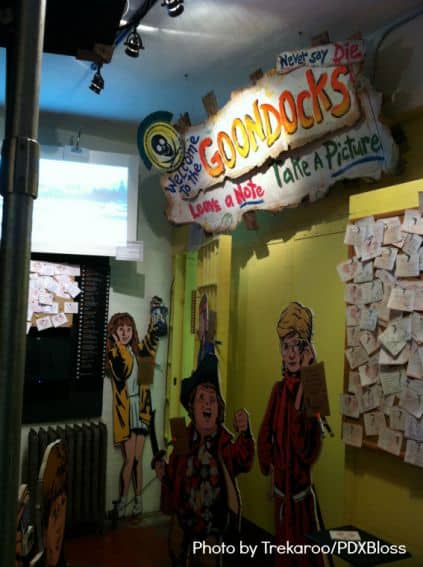 My husband travels a lot for work. Every so often, we like to escape the big city and go some place smaller and quieter—a place we can
explore
! Astoria, Oregon has been home to numerous explorers, although none more famous than Lewis and Clark and Corps of Discovery, and my personal favorites,
The Goonies
.
Astoria is about a 2-hour drive from Portland, and lies at the mouth of the Columbia River, where it collides with the Pacific Ocean. Astoria has a lot to offer and makes for a perfect weekend get-away for families. There is no actual beach in Astoria—to get that you need to go 20 minutes down the road to Warrenton—but you are on the river, and can see plenty of sea activity from sea lions to the massive cargo ships making their way up and down the river. Enjoy these fabulous tips on visiting Astoria Oregon:
Oregon Film Museum
There have been hundreds of movies filmed in Oregon. Some of the more famous are
Short Circuit
,
Kindergarten Cop
,
The Shining
, and one of my favorites,
The Goonies
. In fact, the
Oregon Film Museum
building is famous in its own right. It was the jail that held Jake Fratelli before his family broke him out in one of the opening scenes of
The Goonies
. The museum pays homage to that movie and all of the others, and gives an inside look at how movies are made. As my 5-year-old hasn't seen any of these movies yet, he found the 'Hot Set' and 'Post-Production' galleries especially cool. He was able to film his own scenes, see how they turned out, and do a little editing!
Across the street is the Flavel House, which is where Mikey's dad worked in The Goonies (remember the scene with him raising the flag as the kids rode by on their bikes?), and the Astoria Column is just a few minutes up the hill as well. The Column provides the best views (after you climb 164 steps) and you can toss the biodegradable gliders from the top. It was a highlight for our son, for sure!
Read the rest of the story at Trekaroo.com.